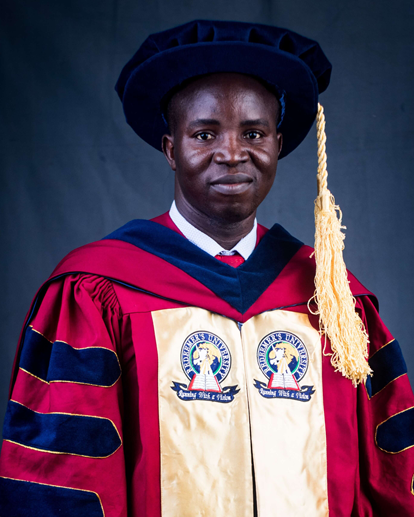 The Faculty of Law, Redeemer's University, Ede, was established on the 23rd of August, 2017 by the National Universities Commission.
The Faculty was initially named College of Law but later changed to the Faculty of Law by the Senate of the University in 2019.The pioneer Dean of the Faculty was Professor Borokini A. A. At a time in its history, the Faculty of Law was headed by Professor Fatula and subsequently headed by Dr. Mrs Akinbola as Acting Dean of Law until 2019.
The Faculty started with staff strength of eight (8) teaching staff and two (2) non-teaching staff.
The Faculty began as a one-unit Faculty until April, 2019 when it was split into two Departments, vis-à-vis, the Department of Public and International Law headed by Dr. (Mrs.) Ngozi C. Ole, and the Department of Private and Property Law headed by Professor Olusegun Yerokun. 
Notably, the Department of Public and International Law is now renamed as Public Law and is headed by Associate Professor Ifeoluwa J. Koni. In 2020, the Faculty birth the third Department named: Department of Jurisprudence and International Law headed by Dr. (Mrs.) Adetutu D. Aina-Pelemo. The Faculty is currently headed by Prof. O. B. Akinola with specialization in legal education.
The Law programme is conducted in accordance with the Philosophy and objectives of the NUC for the LL.B Programme as contained in the NUC Benchmark for Law programme. It is aimed at ensuring that the graduate of Law acquires good general knowledge of Law, comprising a clear understanding of the place and importance of Law in the society. 
The Faculty is accredited by the National Universities Commission and the Council of Legal Education. 
The Faculty parades scholars both within and outside Nigeria with vast experience in diverse areas of law. The Faculty of Law offers innovative elective courses such as Alternative Dispute resolution, Information and Technology Law, Legal Ethics and Professional Responsibilities, Moot and Clinical Practice, Civil and Criminal Procedure, aside from the core courses prescribed in the BMAS among others. 
The Faculty offers opportunities for students for internship in top law firms and corporate establishments with legal unit. Opportunities for experiential learning compliment our efforts in specialized law clinics which imparts law students with contemporary legal skills relevant for today's legal market for domestic and international clientele.
On behalf of the Vice Chancellor and Management of Redeemer's University, I welcome you to explore our knowledge and skills – based Faculty of Law.